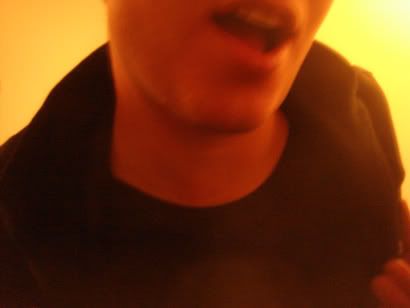 With a new year upon us I have so many thoughts in my head all running at seperate paces as though they were little A.I.s doing cross-overs. So many plans I have for the year ahead as well as personal goals. We all get the New Year's resolution bugs but it seems like I have signed myself up for the 2007
extreme makeover
of resolutions. Rather than run through them here and now, I'd rather address them as they come up. The month of January I have set aside for setting all oars in the water so-to-speak and getting things started the right way. After all, you can't start all plans at once otherwise you shock your system and you'll ultimately fall short of them all. You could say I'm using a systematic approach but I'd say I'm just using some good old fashioned common sense! All of you and I will be the judge as time goes on.
The New Year started off with some interesting headlines that I am still trying to get updates for. A few that I am actively following are:
UFO Crashes in South Africa.
Dutch Ban Segways From Public Roads
Praying Mantis Makes Meal of a Hummer
So far no new updates have been available regarding the "UFO" but I hope something comes out conclusive. From the description it seemed like it could have been a meteor or something. Hopefully, it wasn't a plane crash because from the sounds of it there probably won't be any survivors. The Dutch ban on the Segways didn't surprise me all that much since I have actually visited the Netherlands and gotten a first hand view of their culture. The Segway as a form a transportation in a city like Amsterdam for instance is really a mismatch. Most often it was used by children as more or less a toy much like a skateboard en lieu of a bicycle which is used as a more serious commuting means. Not to say that you could not commute effectively with a Segway, but obviously the target market is still a niche market based on novelty over actual usefulness, in my opinion. And lastly, the least surprising was the praying mantis being seen devouring a humming bird. Mantids are well known to kill small lizards and birds when given the chance, especially depending on what size the mantid is. Mature adult mantids are capable of handling larger prey.
Much like the mantid, I was able to observe the stealth and poise of the Burger King feeding friends with delicious burgers, a pseudo-gold crowned ninja against malnutrition. It's a breath of fresh air to see that video games can still be meaningless and zaney, like Guitar Hero. Just be careful when the Burger King accidentaly "drops" his quarter pounder!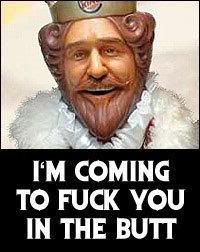 But on a serious note, I wish everyone luck with their New Year's resolutions and longer term goals for 2007! And if you're really stumped as to what needs to be done to improve your life, let a completely synthetic agent assist you.

In the year 2007 I resolve to:
Sexually harass my co-workers.
SYS