Pardon me for the length but it's how I roll, baby!

I decided to clean up my drafts drawer and get some clips put up and also fill y'all in on one the fullest weekends I think I have experienced since moving here. About a month prior I had thought about some of the events heading my way for late October and let me tell you I had no idea how fun, long and truly taxing this past weekend would be. I can only recall it in my own way so here it is. Enjoy!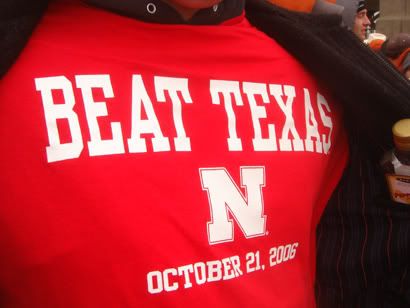 No, we ended up loosing a very close game to Texas but since Bauer and I had tickets it was still a great time to be had in a truly beautiful stadium. The stage was set, a colder than usual day with snow looming for game time, warm weather lovers coming to our town, tickets in the Texas section and a party of four pillars. We could all smell an upset! Here, Bauer provides his torso as a billboard for all to see.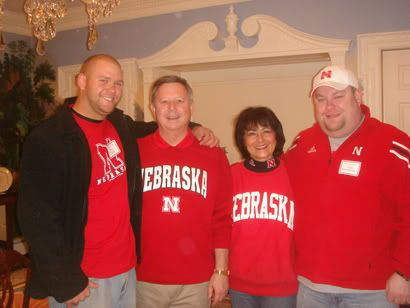 Our morning started off with some pre-pre-pre-game activities at the Governor's Mansion including a buffet style breakfast, a tour of the mansion's first floor and this photo. One striking thing about the couple is how much taller they look on television. Both seemed to be very nice people and were enthusiastic about the game ahead. Security at the front door cautioned Bauer and I to leave the Texas constituents alone, but if anything were to breakout to leave some for them. I said "sure thing!"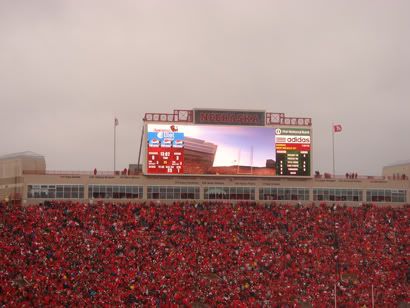 A wonderful addition to the stadium that occured after I stopped traveling to Lincoln and before I moved here is the big screen. I can actually be all the way down on H street and still watch the screen as if it were a TV across a living room. (That reminds me I have to snag a shot of that.) Cornhusker stadium broke yet another record by packing in over 85,000 spectators. This is a college town like no other in my opinion. Plus, this stadium is much larger and much more beautiful than the Meadow Lands. Filled with so many people wearing red it's no wonder.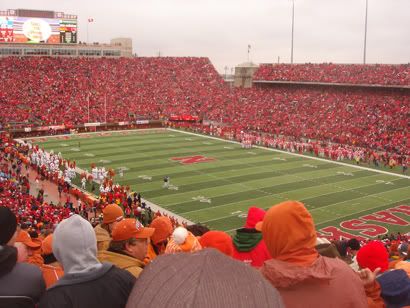 The design of the stadium is very good for the spectator because even if you are way up at the top row of seating you still have an excellent view 360 degrees. If they were to ever expand the stadium they can do so without creating obstructing views in the future. The only way they could screw it up is if they decided to cap the stadium with a dome. But that would take a total re-creation/re-design and I doubt if anyone wants a dome - si I say it's perfect!

You'll notice in the last shot that we were in the Texas section. This is due to the fact that the comp'd tickets we received were from a friend of Bauer's who was from Texas. I got to meet said friend at one of three tailgates we attended. What a funny and generous guy! Yes, we were a minority in the Texas section but that was in number only. If you were anywhere within a hundred feet of the four pillars, you could hear yours truly modifying the Texas song just the right way:

Texas song - The Texan Version, "Texas...FIGHT!...Texas...FIGHT!...Texas...FIGHT!..."

Texas song - The Strong Island Dave Version, "Texas...SCREW!...Texas...SCREW!...Texas...SCREW!...Texas...SCREW!...Texas...SCREW!"

Hey, I could've used another word but I like to keep it PG-13 out in public...

To read more and to view more pics head on over to Visual Davis by clicking the link below or by just clicking here if you're lazy.

SYS